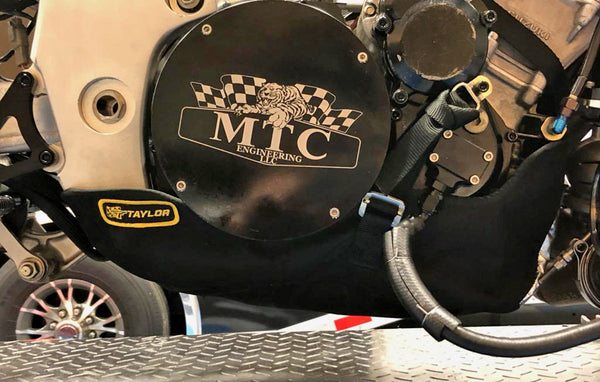 Taylor Motorsports is the recognized leader in drag racing engine diapers and blower explosion restraints. Manufactured from ballistic nylon and kevlar, the Taylor Motorsports Lower Engine Restraint is the best fitting and lightest diaper on the market, weighing only 12 ounces. Designed for easy install and removal, this product features the ability to retain an engine's full oil supply while preventing case fragments from being deposited beneath the rear tire.
FEATURES: 
Universal Fit
Easy Install
Quick Removal
Weighs 12 ounces
Made in the U.S.A.
* XDA Approved
** An Engine Restraint is required in Pro Street, Real Street, Pro Xtreme, and 4.60 Index classes.
Engine Diaper
Nice Part! Fit and finish is spot on worth the price!