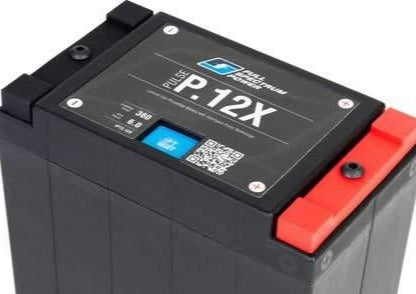 The Pulse IPT is the worlds best lightweight lithium motorcycle battery.

All Pulse IPT batteries all have the following features:
* Universal Charger Capability - Most commercially available battery chargers work with the Pulse IPT batteries. 
*Advanced Case Design- Lighter and stronger than our previous case, it rejects heat, vibration, gas and oil.
*Advanced Cell Design- We designed the Pulse IPT cells to cope with the demands of motorsports. Every component of our cells were designed and optimized for motorsports, based on a decade of experience building engine start batteries. These are only available from Full Spectrum Power.
* V Direct Multi Terminal - Our solid copper terminals have 4 threaded mount holes. Attach your accessory wires without having to use long screws on one small terminal.
* V Sleeve Silicon Terminal Covers - Color coded for polarity, our silicon terminal covers protect against short circuits.
 Every Pulse IPT battery comes with our Intelligent Pulse Technology. Years in development, every feature of the Pulse IPT series of battery was conceived, designed, and created with one goal in mind: to be the most user friendly, reliable, long lasting, best performing battery ever built.
The Pulse IPT P.12X Lithium Battery is available in 3 different power levels from 210-720 cold cranking amps, while utilizing a battery case size of 5.9" Wide, 3.4" Length and 5.1" Tall.
This case size will replace the following Yuasa Batteries:
YTX12-BS (7.5 lbs, 10 ah, 180 cca)
Fits the following models:
Suzuki GSX-R1000 (01-04)
Suzuki GSX1300R Hayabusa (08-18)
| | | | | |
| --- | --- | --- | --- | --- |
| Model | Weight | W x L x H | CCA | Amp Hour |
| P.12X | 2.1 lbs | 5.9" x 3.4" x 5.1" | 210 | 3.6 |
| P.12XL | 2.9 lbs | 5.9" x 3.4" x 5.1" | 360 | 6.0 |
| P.12XS | 4.4 lbs | 5.9" x 3.4" x 5.1" | 720 | 12 |