Our Electric Air Shifter gives you perfect shifts at the push of a button. The Electric Air Shifter includes all components and instructions necessary for a basic installation, however you will need to fabricate your own shifter bracketry. The Electronic Engine Kill features easy kill time adjustment. We invented the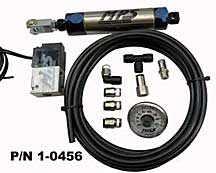 Electronic Engine Kill back in 1988 so we can offer our exclusive, no hassle, free repair or replacement lifetime warranty. Be sure to ask about that when buying a brand x copycat shifter. Our shifters come with push in style air fittings. These little jewels are so much nicer to work with than the old fashioned ferrule type that need replaced every time you remove the line. A DOT air bottle is included so you can upgrade to the high pressure system without needing to buy a new bottle. Custom wiring harnesses with a shifter/horn toggle switch are available as an option for some specific bikes to make wiring your MPS shifter a snap.
Standard or Autoshift - Kill Times Per Gear - Shift RPM Per Gear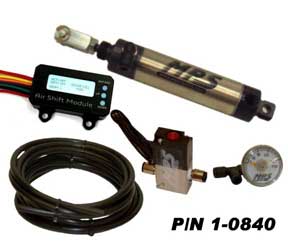 This new MPS Air Shifter Kit has it all! DOT Air Bottle, Stainless Steel Shift Cylinder, Electric Air Valve, Push In Fittings, Air Pressure Gauge, Air Line, and the new RSR Air Shift Module. The RSR Air Shift Module allows the user to choose between ignition or fuel kill. Engine kill times are adjustable per gear shift. This is great for those with 1-2, 1-2-3, or 1-2-3-4 auto transmissions. The adjustable solenoid advance time setting allows the solenoid to apply pressure to the shift linkage before the engine kill sequence begins for no wasted kill time. Auto Shifting is built into the controller and can shift each gear at a different rpm. Can be wired to ground or +12v shift buttons for manual shifting. Works on most motorcycle applications.
Best in the business
Hard Times Parts and Services has the best stuff and super fast delivery. Thanks for all y'all do.
Great service
Always great service and fast shipping
Always great business and very fast Delivery
MPS pneumatics air shifter kit