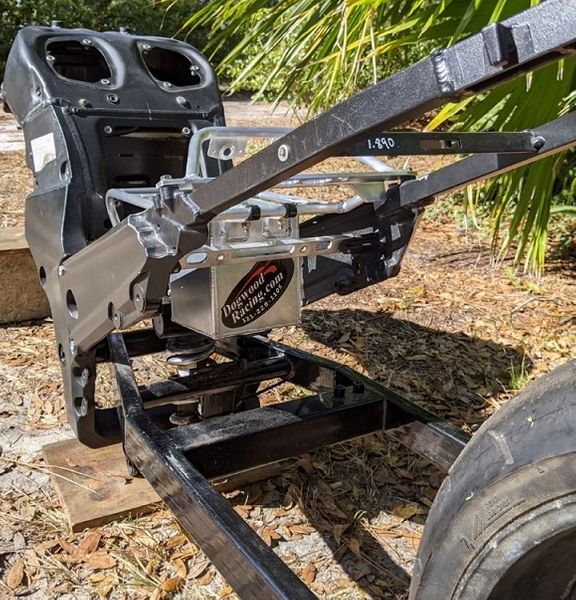 DOGWOOD RACING ZX14 PROSTREET INTERNAL PUMP FUEL CELL WITH TANK SHELL SUPPORT AND SEAT BRACE

ZX14 Internal Fuel Pump Setup, pump not included.
This setup removes approximately 20 to 25 pounds from your ZX14.
Dogwood Racing Support Bracket is made from 6061 aluminum tubing, securely fastens to your chassis and includes an integrated seat brace to support the front of your Outlaw or Prostreet Tail. Two quick release mounting tabs for the rear of the tank shell and two for the front of the tank shell.
The tank shell needs to be drilled in the front for a 6mm fastener, in the rear for the two quick release fasteners, and for the fuel fill. The tail needs to be drilled for the two quick release fastners in the front, and the front lip for the fuel fill.  Quick tip if mounting the bodywork yourself - use a weight on the shell to simulate the rider sitting in position, then mark your holes. You do not want to pull on the fasteners when sitting /launching, this is a main reason you see cracked bodywork around fastener locations.

Catalyst Tank Tops and Tails are available for purchase as well

In stock item may take up to 48 hours to ship after purchase.  If the item is not in stock please call me to be added next in line. We are taking pre orders and are currently at a 2 to 3 week lead time.

Hardtimes Parts
Ordered all needed parts for my bike and every time I received great communication, fast shipping and the parts fit perfectly.