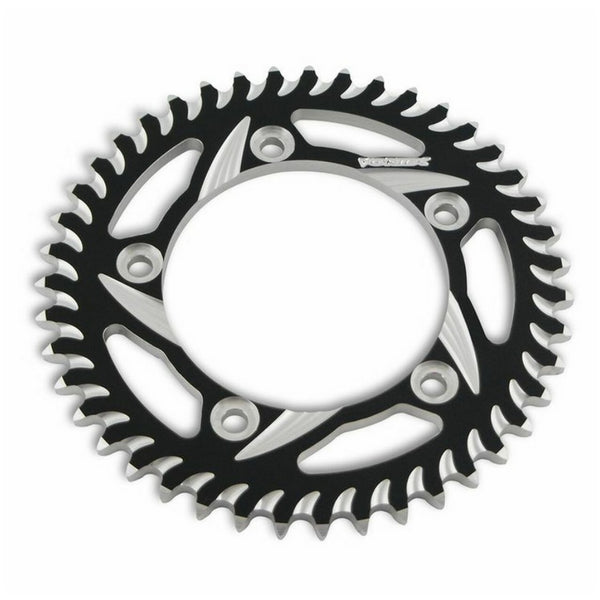 Vortex Racing rear aluminum sprockets are the racer's choice.  Their lightweight reduces rotating mass and aids in putting more power to the pavement.
Features
Lightweight standard aluminum racing sprocket
100% CNC manufactured in the USA
Specially formulated alloy per Vortex specifications
Black anodized with contrasting silver machine cuts
Unique tooth design increases sprocket longevity
Vortex patented sprocket design is unlike any other sprocket

*Choose Sprocket Pattern and Tooth Size from Menu
427ZK - ZX14 ALL YEARS
436ZK - HAYABUSA 99-07 SRAD 96-99
438ZK - YAMAHA R1, GSXR1000 09-18, GSXR1000 2020 (530 Conversion)
452ZK - ZX12, ZX10 530 CONVERSION
454ZK - ZX10 ALL YEARS 525 PITCH
527ZK - GSXR1000 01-08, HAYABUSA 08-19
825ZK - MARVIC, GALESPEED
826ZK - RC COMPONENTS
840ZK - BST, ROTOBOX, Core Moto Apex-6
841ZK - MARCHESINI, PVM
Top notch customer service!
Sprocket had to be cut but still was perfect and arrived within 4 days!
48t Vortex
Great sprocket Great price ..Hard Times Parts delivered in record time. What more could you ask for
Great Service and Parts
Customer service was phenomenal and the parts fit to a T. I will definitely order again
Recieved sprocket very quickly. Great guy to deal with!
Vortex
Great quality & fit as is expected from such a great company.
Superb customer service from Dustin!