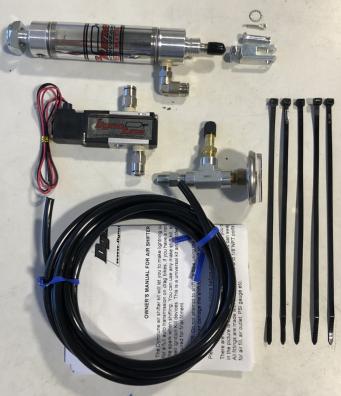 This air shift kit is the best one the market. It will make the quickest shifts around and decrease your ET a whole bunch! A simple air tank system, just fill it with your bike tire pump or compressor before each run, pump to 120PSI. Compare our kit to others and you will see why DynoTune always wins.
> Massive ports in air solenoid=lightning quick shifts, 12V
>Nickel Chrome fittings, 90 degree swivel fittings etc, not plastic cheap ones.
>10 feet of black air tubing
>200 PSI stainless Gauge
>swingarm mounted air fill fittings
>our famous high pressure, fast actuating air solenoid
>clevis for air cyl.
>2" travel on air cylinder, universal mount with clevis and nuts, quality long life, low friction seals, micro polished bore etc!
>Instruction Manual
 You will need a ignition or fuel kill box to unload the transmission during shifts. 
***Optional Kill Box***
DynoTune Digital air shift kill box




Designed for racing and off-road competition use, the DynoTune Digital kill box is a fully tune-able engine kill controller. This sophisticated device can be used with either an air shifter/co2 shifter for drag racing, or with a shift sensor for road racing. It will kill fuel on efi bikes or kill ignition on carb bikes.



Features:

•Microprocessor controlled for perfect accuracy

•Solid state output, no relay contacts to vibrate and cause issues

•Kills fuel or ignition.

•10 foot wire harness

•Control 1 or eight injectors or

•Control 1 or 4 coils

•Kill time programmable from 0-150ms!!!

•Delay before kill time programmable from 0-150ms!!! good for long hose length.

•On board programming with two pushbuttons for engine kill and delay values

•Easy to read and set digital display

•Allows full throttle upshifting with quick shifter / air shifter / push button

•lightest weight Compact design for easy placement

•Works with fuel injected and carbureted motorcycles and ATV's

•allows full throttle upshifts

•12v-16v operation

•2.1"x1.3"x.5" micro package Velcro it anywhere!