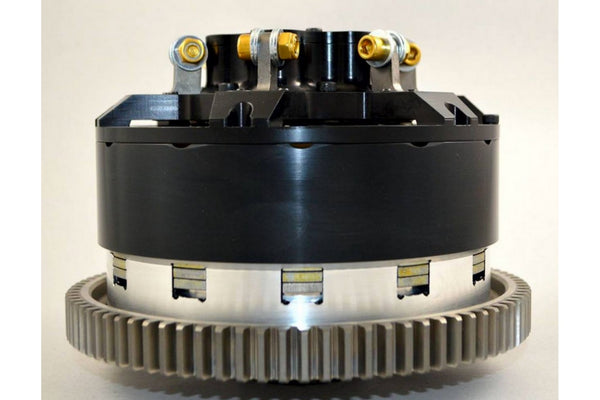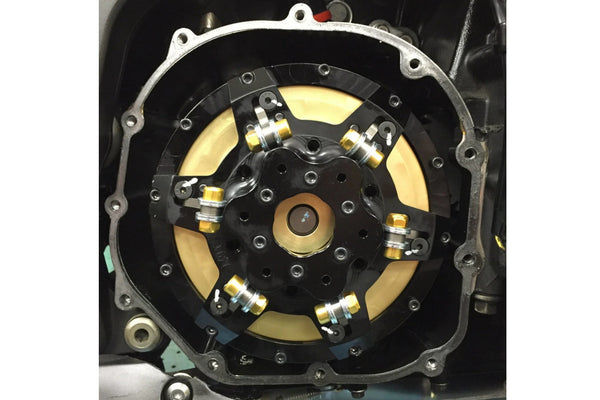 The "Gen II Multistage Clutch" is designed and built with the same robustness as MTC has used for over 40 years in making the best products in the racing industry.
This clutch significantly reduces clutch lever efforts and yet improves clutch adjust ability through its "multistage" technology.
The new design runs on engine RPM, and demonstrates a quicker reaction time and more repeatability between passes.  The new design also allows for easier dynamic spring replacement with its quick access cover plate over the springs.
With this clutch, you have a soft clutch lever feel, almost like you don't have enough pressure on the clutch.  But, once you launch and engine RPM increases, lockup force from the arms come in and apply additional pressure.  This allows racers to literally "throw the clutch away" at the launch and roll aggressively into the throttle.  If the bike bogs too much, remove some static pressure.  If the bike tries to wheelie 10-40' from the starting line, add some weight to the clutch to help pull the engine down.
-Tuning kit included
*Cores Required. hard times suppling a new 06-11 inner hub which is required and You must send us your stock clutch basket for modification.
**Includes clutch cover spacer.
*One weekend of trackside support is provided by Dustin Lee to assist with setup & adjustments, free of charge when purchased through Hard Times.
Great customer service from a fellow racer!!!
The fastest and best service at a great price
I appreciate all that Hard Times does for all us racers!!!
Great
Put the clutch in. Was a breeze to put in. Just waiting to go test it. I buy all my pars from hard times!!!!Thanks Dustin.