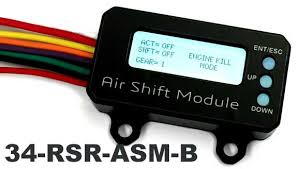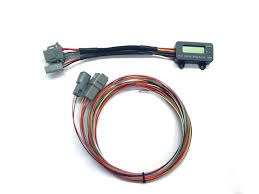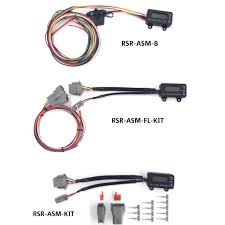 RSR Air Shift Module
The newest innovation from Ryan Schnitz Racing is the Air Shift Module.  The Air Shift Module (RSR-ASM) combines all of the features many racers want into a compact, digital package loaded with adjustable features.  
Coil or Fuel Injector Kill Mode allows the user to install the RSR-ASM to best fit their combination.  Engine Kill Times are adjustable per gear shift.  This is great for those with 1-2 or 1-2-3 Auto Transmissions, or those who may need to adjust kill time for added power down track.  Adjustable Solenoid Advance Time allows the solenoid to apply pressure to the shift linkage before the engine kill sequence begins to allow faster shifts with less delay.  Auto Shifting built right into the controller with no need for added boxes or chips.  Can be wired to ground or +12v shift buttons for manual shifting.  Works on any motorsports engine with a digital ignition (Not CDI) 1, 2, 3, or 4 Cylinders.
Features:
Ignition Coil or Fuel Injector Kill Mode
Adjustable Shift Count (Number of shifts)
Adjustable Kill Time Per Gear Shift 0-150ms in 1ms Increments
Adjustable Solenoid Advance Time 10-40ms in 1ms Increments
Adjustable Auto Shift RPM 2000-16,000 RPM in 10 RPM Increments Per Gear
Adjustable Tach Input Frequency
Adjustable Shift Input Polarity (Ground or +12v)
Available options

RSR-ASM-B
RSR-ASM-FL-KIT
RSR-ASM-KIT
Ordered Harness for a RSR Module
Item was exactly what I need and as described. Dustins knowledge and customer service made my purchase so easy. Highly Recommend!!!
Good business
I order a few parts and got nothing but good service plus fast shipping