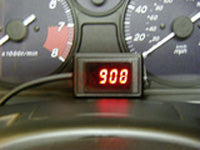 The superior Digital displays are available in RED LED or Blue, GREEN backlight LCD. Select the blue or green color if it will be in direct sunlight(blue and green only)! The Gauge is the size of a key chain Remote and will mount virtually anywhere.
Racers, pay attention, this help improve your consistency dramatically. You can now purge at the line until the exact nitrous pressure is reached, run after run after run. Consistency is the name of the game.
 The sending unit on this kit is compact and easy to install. It removes with a quick Disconnect and a complete wiring harness comes with the kit. Works from 9 Volts to 14 Volts.
Compare the following features:
Digital Display 1 PSI
Resolution Direct Sunlight Viewable(blue and green only) 9-14 Volt Operation
Super Low Current Draw
Simple installation Micro Package Mounts Anywhere
Note: The Sending unit come with 1/8" NPT threads. The Gauge adaptors are sold separately
Gauge dimensions: L=2.12" D=.6" H=1.37"